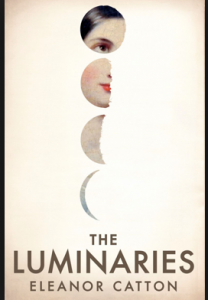 The Luminaries (2013), by Eleanor Catton, is a fast-paced, not-quite mystery that is equally a study in the construction of narrative.   It won the 2013 Man Booker Prize, and although I would have been happy to see the honor go to Jim Crace's Harvest (and having just finished Kate Atkinson's Life After Life am surprised that it wasn't even on the longlist), I am consistently optimistic about Booker Prize winners.  Is The Luminaries a great novel?  I don't think so.  Is it a well-written, fun, satisfying read (a little long, in the best Victorian tradition)?  Indeed.
Set in the west coast gold fields of New Zealand's South Island in the mid-19th-century, the novel begins as a group of twelve men gather in the public room of an inn to try to make sense of a death, a disappearance, a mysterious fortune, and more.  To their discomfort, a stranger enters the room, and becomes an unexpected interlocutor (as well as participant in the story being told).  Each man believes he holds a piece of the puzzle; none of the men has access to the whole.  As the assorted tales unfold, the narrative point of view escapes the inn and readers become privy to thoughts and actions not completely available to the listeners within the room.
All the while we are accompanied by a separate narrator more akin to a cosmic eyeball than an omniscient speaker.  We discover that one man's certitude is undone by another man's story.  And although the men labor to uncover the truth about the woman at the center of the mysteries, it cannot be the truth of her own history.   We are well into the novel when the action moves beyond the narratives constructed and reconstructed by the thirteen men in the public room, enters a present and then speeds into the past.  Facts remain, but the characters, as we know them, change.
In my own novel, Dakota, Or What's a Heaven For (2010), set in mid-19th-century Dakota Territory, I invoked the Victorian literary convention of beginning each chapter with a descriptive heading (e.g., "In Which a Coffin is a Bed but an Ox is not a Coffin").  This is a convention to which Catton also nods, but she uses the convention of the précis to comment on the mutability of narrative and the very act of representation.   As The Luminaries tumbles to a close, the chapter summaries become longer and longer, recapitulating and repositioning what we already know, while the chapters themselves shrink.   Thus, the novel folds in upon itself and we realize that the rollicking action that has kept us turning pages cannot be separated from the manner in which that action is has been represented.
Tags: book review