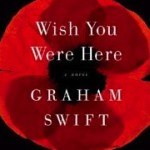 I can be a little critical of lazy readers, the ones who need the car crash or the dismemberment or the murder on the first page to catch their interest.  I understand that spectacular beginnings have to do, on the one hand, with genre (all of the above seem right at home for a murder mystery, but I like my literary fiction to ask more of me as a reader), and on the other hand, with a publishing industry that is often more concerned with sales than quality.  One of the reasons I enjoy teaching an introduction to literary studies at the university has to do with the pleasures of teaching the rewards of patience, of paying attention to the words and sentences on the page as much as to the plot that develops.
I had my (smug, you bet) attitude put to the test with Graham Swift's Wish You Were Here (2011).  I had read a couple of Swift's earlier novels, Waterland and Last Orders (for which he had won the 1996 Man Booker Prize), so I was looking forward to Swift's nuanced and careful prose.  But I admit that I was well past the half-way point in this novel before I began to appreciate it, and that's asking a LOT of the reader.  I'm glad I finished.  The cumulative effect of the novel is powerful, but it is certainly not for all markets, and only a perverse stubbornness kept me reading.
Wish You Were Here melds story and the style brilliantly, and that's the problem as well as the achievement.  The central character, Jack Luxton, is an English farmer who sells his farm after a series of hardships, including the devastation of the family's cattle herd, first to fears of bovine spongiform encephalopathy (mad cow disease), and then to an epidemic of hoof and mouth disease.  The loss of the farm signals a loss of the past and of a way of life.  When Jack learns that his brother, Tom, has been killed in Iraq, he enters into a period that is defined by obsessive rumination, in which he compulsively relives, rethinks, repeats and revises the past.  The novel works as an honest recapitulation of how a man's mind can process loss and anxiety.  We get Jack's thoughts that make sense and that don't make sense, the ones that fit into a sensible world, and the ones that are without that world but no less real for him.  The thoughts, and thus the representation of those thoughts in Swift's style, are circular and repetitive, filled with lapses, breaches, leaps, ruptures and return.
It is a painful journey, as much for the reader as for Jack, and yet, having been on that journey we understand, in a way that an easier style would not have made possible, how salvation need not be glamorous to be miraculous.
Tags: book review, Wish You Were Here